If there is something Ohio State Buckeye fans are used to, it's the head coach of their football team having a special interest in special teams.  Urban Meyer is no different than Jim Tressel in the way that he sees just how important the punting unit is to a football team.  Even under Meyer the offense cannot always achieve that ten yards needed, and this isn't NCAA on Xbox, you can't just go for it everytime. The punt unit is there to do one thing: give the opposing team the poorest field position possible. The worst thing that can happen?  That punt is blocked.
Enter Urban Meyer's Freak Show.
"That's where the athletic freaks are." – LB Etienne Sabino
The Freak Show is Urban's name for his punt block unit, the unit that is supposed to make opposing coaches slow-motion mouth four letter words on national television.  There is no bigger "Oh… [insert word of choice]" moment than seeing an opposing player break through the line only to take the ball right off the foot of your punter.  It's more demoralizing than an interception or fumble.  It's supposed to be the safe way out, it's supposed to be the right move.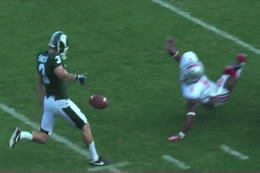 It's a select few guys jobs to make sure that move is regretted.
The only real question at this point? Who will The Freaks be in 2013? We know one, in the GIF above, will likely be reigning block-master Bradley Roby.  Besides his defensive prowess in the Buckeye secondary, Roby has shown he has a flair for the exciting on the special teams side of things as well.
Now let's talk Noah Spence.  This kid is a pure freak, the very definition of the word.  He had Braxton Miller running for his life during the Ohio State LiFE Sports Spring Game.  It was very impressive to watch, and he was surely turning the heads of everyone in Cincinnati that day.  It would be pretty easy to speculate that Spence would be on the the very unit with the name that describes him.
Keeping in the area of the younger guys, Vonn Bell could find a place to really shine on special teams.  The young man from Georgia has an amazing skill set as a defensive back, and could find himself opposite Roby in this formation with the option to go for the block from the other side.  His closing speed is one thing the scouts marveled at during his recruitment as a safety, which translates brilliantly to that final step needed to turn a normal punt into six going the other way.
It's time to talk my favorite kid in this new class of freak shows, Joey Bosa.  I know what you're saying, "he's a defensive end, rarely are those guys the ones sent in to block punts."  Yah, yah, I know, it's usually the smaller quicker guys, getting the blocks while the big guys move the blockers out of the way.  Well this guy is not only big (6'7 250lbs), but he's also ridiculously quick off the ball.  Sure he can move people out of the way as well, but with that wingspan, combined with his ridiculous athletic ability, I wouldn't be surprised to see him get one of those paws on a kick, only to then pick it up and run it in for my personal favorite "fat guy touchdown."  Besides, how many 6'7 250 pound guys do you know who can do this?
Adolphus Washington is another young, former 5-star recruit, who came to Ohio State and really showed he's ready to step up this season during the Spring Game.  At 6'3, 292lbs it's safe to say he'll be a people-mover on the edge, but don't be surprised to see him right close to the action when ball hits the turf.  He's deceptively quick, with great pass-rushing moves.  This correlates onto the punt block scheme as a guy who could be there to drop on, or pick up, that recently blocked ball.
The most effective part of this unit could not even be on, or near, the line of scrimmage when the ball is snapped.  He could be waiting to receive it.  Nothing gets in a punt unit's heads like knowing they have someone back there that they have to be very disciplined in their lanes for.  A great return man can not only break the long touchdown runs, but can also give the guys who have to go from blocking to tackling a quick lapse in responsibility on their blocking assignments.  Having a guy like Ted Ginn Jr. back there can make everyone, including and especially the punter, fumble around those responsibilities for the fear of having that big return taken back on them.  Who will that great return man be?  Could Jordan Hall, in his final season coming off injuries,  be that threat?  Will Roby have a breakout performance returning kicks?  Time will tell.  But you can be certain that if we have a guy who teams are afraid to kick to, it will be even easier for the freaks up front to cause some chaos in the backfield.